Founder/President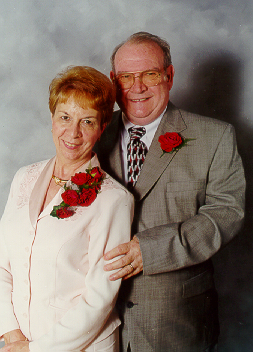 ROY CHESTNUT
Founder and President
SERVING AS MISSIONARIES
TO

ROMANIA
Roy and Rella Chestnut
Roy Chestnut was born in St Charles Virginia December 3, 1937 to the proud parents of Lee and Middie Lee Chestnut. He was the first born of 7 children. Roy has 4 Brothers and 2 sisters. Brothers are Earl Chestnut of Camby Indiana; Tommy Chestnut of Indianapolis Indiana; Ben Chestnut of Avon, Indiana; and John Paul Chestnut of Kingsland, Georgia. His sisters are Stella Huffman of Leesburg Florida and Ruth Jones of Indianapolis, Indiana.
Roy Chestnut finished elementary school at Bonny Blue Grammar school, Bonny Blue,VA. He spent the 8th, 9th and 10th grades at St Charles High school. In 1954 his family moved to Indianapolis; Roy finished his High School at Arsenal Technical High School in Indianapolis.
At age 19 Roy enlisted in the United States Air force. Upon complication of basic training and tech school, Roy was sent to Japan where he served 12 months on the Island of Sado Shima, a small island off the western cost of Japan in the Sea of Japan. He was then sent to an Air Station in Empire Michigan; where he finished out his enlistment.
While stationed in Empire Roy Married Rella Reeder formally of Oneida, Tennessee on December 21, 1958. After being honorable discharged, from the Air Force in 1960; the Chestnuts' moved back to Indianapolis where they resided until 1965. In 1960 the first child was born (a girl, Rebecca Ann). In March 1963 Mrs. Chestnut gave birth to a son Gregory Lee.
Roy had been saved as a teenager (13) and in 1963 re-dedicated his life to the Lord. Roy joined the church where his wife was already attending, the Grace Memorial Baptist Church on North Alabama street in Indianapolis. Dr. Roy Julian was the pastor. In 1964 Roy surrendered to the call of God to full time service. In June of 1965 the Chestnut moved to Chattanooga, Tennessee and enrolled in school at Tennessee Temple Unv. While there their third child (son) Michael Lynn was born on June 1966.
In August of 1969 Roy graduated with a Thg. Degree. Roy would later go on to earn a B.B; M.R.E.; and a D.D. Upon graduating from Temple Roy and his family moved back to their home church in Indianapolis. By this time the church had moved and changed its name to Thompson Road Baptist Church. Roy and Rella served at the church for 9 months seeking the will of God for their life.
In early 1970 Roy and Rella moved to Oswego, IL where they took a small group of people and founded the Valley Baptist Church. God greatly blessed this ministry and Roy remained as pastor until January 20, 2002 (32 years).
All throughout Roy Chestnuts' ministry, he has had a passionate heart for missions. Under his ministry Valley Baptist Church developed a strong mission program that continues today.
In 1990 Roy Chestnut took a mission trip to Romania. The communist government of Romania had just collapsed. On this trip God burden Roy Chestnuts' heart for the country of Romania. However God would not give him peace about going to Romania as a missionary. For more than ten years he remained as pastor of the church, but continued to make trips every year into Romania. During this time he began to establish a work in Romania. In October of 2001, God spoke to his heart and allowed him to resign Valley Baptist Church and begin a full time ministry to Romania. January 20, 2002 he and his wife Rella moved to Pensacola Florida and joined the Smyrna Baptist Church and their pastor of 38 years Dr, Roy Julian. February 17, 2002 the Smyrna Baptist church commissioned Roy and Rella and sent them to the field of Romania.
The work in Romania is greatly blessed of God. The Chestnuts' have joined hands with missionaries Harrell and Jean Noble. Roy admits that he is just a small wheel in a great work. Roy and Rella consider themselves to be helpers.
In the Church planting program they have joined hands with Harrell Noble.
The Chestnut are in their late 60s'. They spent their time in Romania mostly during the spring, summer and fall. The winters in Romania can be very rough and cold. The Chestnuts use the winter months to raise money for the work. When in the states the Chestnuts reside in Pensacola, Fl.
The Chestnuts need your prayers and support. If you would like to make a donation to their ministry you can write your checks to Heartland Baptist Missions ear mark the donation for the Chestnut and send it to 7000 N. Pensacola Blvd. Pensacola, FL 32505.
All Donations are tax deductible!


THE CHESTNUT'S SERVING AS MISSIONARIES TO ROMANIA